HOW TO USE APP
---
The Eldorado Shopping App
Easily and efficiently create and place orders whether at Elevation or in your own store.
The Eldorado Shopping App has been developed to help you place orders while at Elevation, but you can also use the App in your store to create and place orders easily.
To effectively use the App, your phone must meet the following minimum requirements:
Android: Operating system at least 7.1.1 and a 1 megapixel camera
Apple: iPhone 4 or more recent and a 1 megapixel camera
1. Start An Order
When you want to start an order, you will see this screen. Enter the Project Name or PO and your Customer Name/ID. Your Eldorado account manager will use this informaiton to find your order.
2. Welcome Ready to Scan
After you have entered the information, you will see the Welcome screen.
Press the scan button at the bottom of the screen when you are ready to scan items.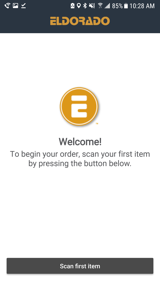 3. Scan Barcode
Press the lightbulb to turn your phone's light on or off. Line up the barcode on the red line to scan.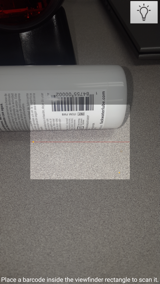 4. Enter Quantity
After scanning, you will see this screen. Enter the quantity you would like to order then press Add to List.
If an item is not recognized, it is probably not in our system. Contact your account manager.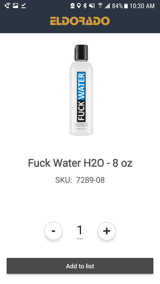 5. View List or Scan Another Item
After adding the item, you can either view the list or scan another item.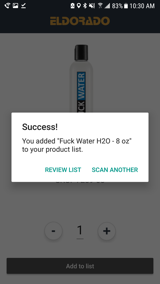 6. Review Shopping Cart
This screen shows your list of items (e.g. shopping cart). You can change quantities or delete items.
When you are done scanning, hit "Finish & Send" button.
7. Email Order
On this screen, enter one or more email addresses that you want the order to be sent to.
This step is required to complete the order.
The app will send a CSV file to the email which contains items numbers and quantities.
We recommend you send the order to your account manager for them to receive the order.