ICYMI
New! We-Vibe Tease & Please
Womanizer Premium featured in Cosmo
Kama Sutra Naughty Notes Greeting Cards
New! Fifty Shades of Grey
New! Sym B
Intimate Earth price increase
Cyber Monday Giveaway
Monthly Sale - NS Novelties and Little Genie/Candyprints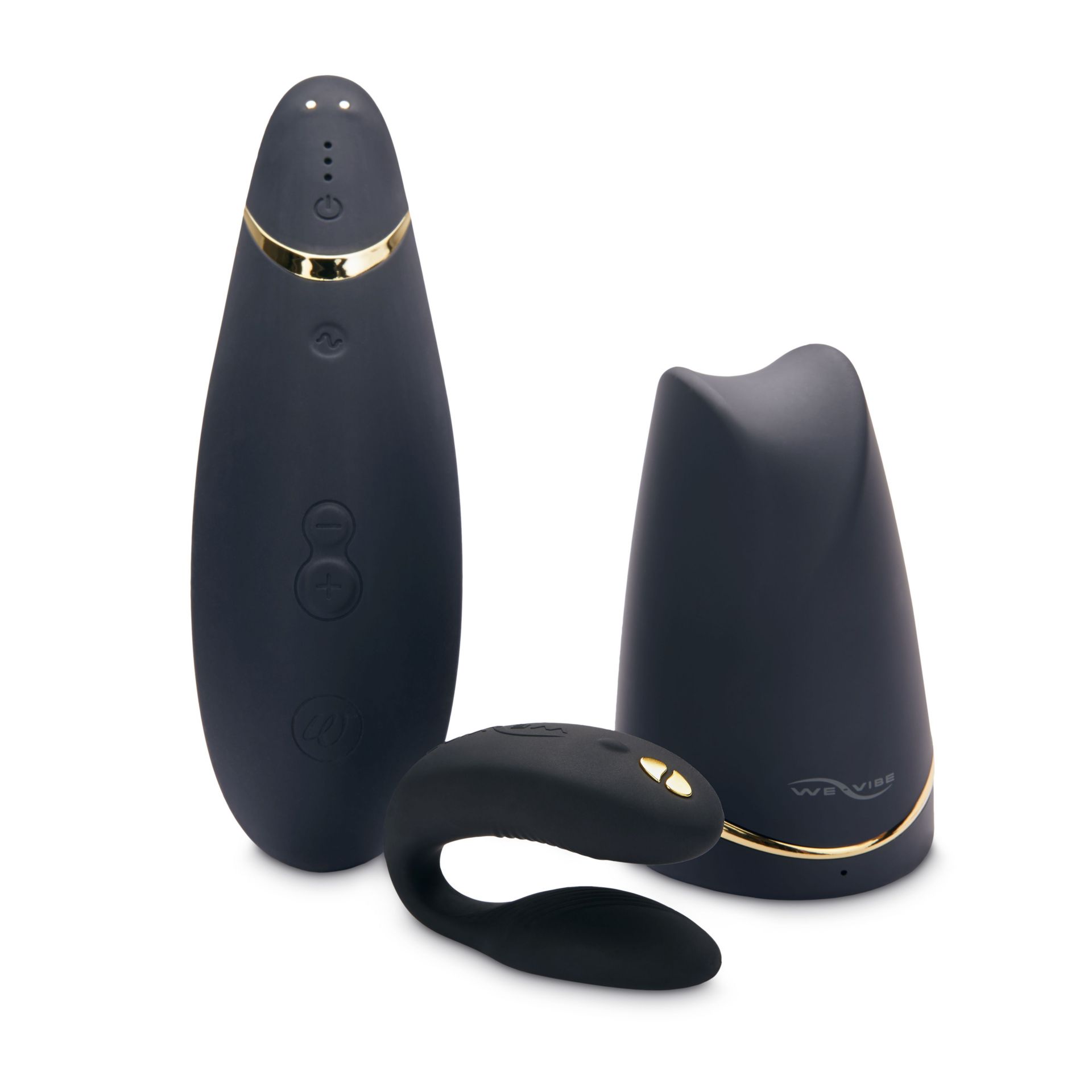 TEASE & PLEASE
---
Two of the leading brands in pleasure, We-Vibe® and Womanizer™ have come together to take you to new levels of excitement.
We-Vibe® Sync™
Sync™ is designed to be enjoyed with a partner during sex. She gets powerful stimulation to her clitoris and G-spot and together, you both share the vibe. Sync is customizable to fit your unique shape. Adjust the clitoral or G-spot stimulator to target your pleasure. With the free We-Connect™ app connect and play with your partner from anywhere in the world.

Womanizer™ Premium
The Womanizer™ Premium's unique Pleasure Air™ Technology stimulates your clitoris without touching it. Pleasant suction and gentle vibrations will bring you to orgasm in next to no time. The lowest intensity level guarantees a gentle build-up, while the maximum level will send your pleasure soaring sky-high.

Featured in Cosmopolitan
"...the Womanizer Premium entered my life when someone gifted it to me. And let me just say: You never expect the Womanizer. She sneaks up on you one day and ruins all other vibrators forever. IT IS MAGIC. The first time I used it, I legit orgasmed in less than two minutes. That's 120 seconds, people."
Brooke Marin
Cosmopolitan Sep 26, 2019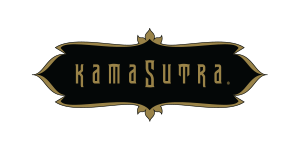 Naughty Notes Greeting Cards
Introducing Kama Sutra's Naughty Notes Greeting Cards! There are 5 different styles to choose from. Each features a Holiday message, a guide to Kama Sutra positions, 3 romance product packets, plus an envelope. Each card contains a 3ml packet of Massage Oil, Love Liquid water based lubricant and Oil of Love kissable warming foreplay oil. Under each packet is a Kama Sutra position with tips and tricks for how to incorporate the included product samples into that position! Every card style has completely different positions inside, so feel free to collect them all!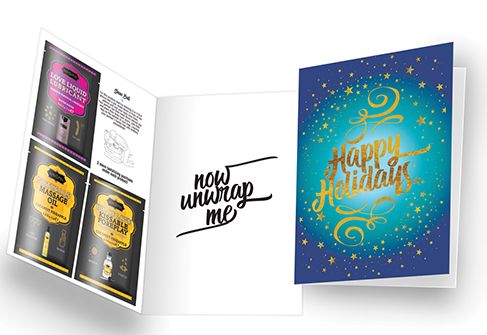 Facebook Contest

SAVE THE DATE - It's a big, big name for a big, big giveaway!!

21 contests
100s of prizes**
Multiple winners every contest


**Product prizes from:
Fleshlight
NS Novelties
Wicked
Coquette
Hot Octopus
Exsens
Sportsheets
Little Genie/Candyprints
Classic Brands
COTR/Le Wand/ b-Vibe
Sport Fucker
OhMiBod
KamaSutra
Oxballs
BMS
Nü Sensuelle

There will be sexy fun for everyone, including a separate contest just for Adult Retailers to win a case of Fleshlight strokers.

Stay tuned! Tell your friends!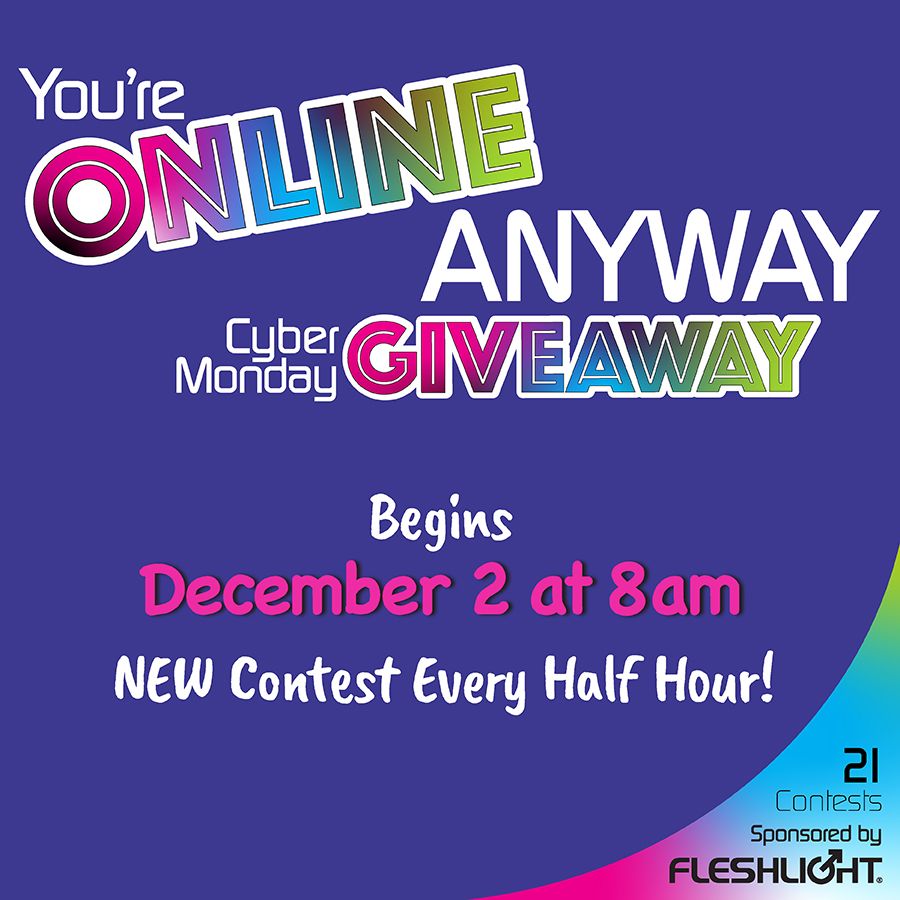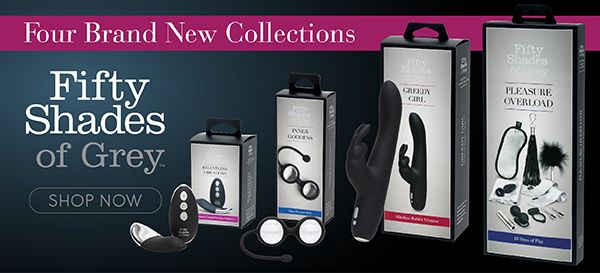 Relentless Vibrations Remote Control Panty Vibe
Take intimate pleasure to another level with this sleek, saddle-shaped remote control panty vibrator. Put the power of pleasure in your lover's hands for the ultimate erotic encounter, or go solo and delight in its 10 patterns and 6 intensity levels.
Inner Goddess Glass Pleasure Balls 77g
Tone and tease your internal sweet spots with these luxurious Fifty Shades of Grey glass Kegel balls. Encased in a silky smooth silicone harness, these glorious balls offer discreet, enhanced arousal whilst strengthening your pelvic floor. Weighing a combined 2.7 oz, this delightful duo is perfect for beginners.
Greedy Girl Rechargeable Slimline Rabbit Vibrator
Pull this rabbit out of your hat and experience magical, dual-sensation pleasure. This slimline Greedy Girl is made from silky-soft silicone, with an array of speeds and patterns to explore.
Freed Pleasure Overload 10 Days of Play Couple's Gift Set
Get ready for ten incredible days of sexual intrigue and delight with this tantalizing gift box. Share the thrill of opening a mystery door each day with your lover to discover a sensual or bondage treat, with items for him, her and both of you.
Sym B Sensual Collection
Sym-B has you covered for every occasion. Looking for something to hit the G-spot? How about some clitoral fun or what about a "blend" of both to blow your orgasmic socks off. Whatever your pleasure, Sym-B® has a variety of interchangeable vibrating heads that will have you coming back for more. Simply - Twist, Lock & Play. Our exclusive collection comes with two vibrating heads designed to deliver the ultimate orgasmic experience.